Marshfield Medical Center Credit Union (MMCCU) President Carol Adler celebrates 35 years at MMCCU on April 22, having begun her career at MMCCU in 1985. Prior to being hired as President/CEO at MMCCU, she worked for 9 years at what was Central Catholic Credit Union.
Carol Adler was born and raised in Marshfield, along with her older brother and sister. Her dad worked for the clinic and her mom was a homemaker. She began her career at Central Catholic Credit Union before being hired as President/CEO for MMCCU in 1985.
"Directly following high school I attended UW Marshfield/Wood Co. and UW Madison studying journalism. My path changed course after meeting my future husband and also realizing I did not really like journalism," said Adler. "I wanted to study business administration but in those days it wasn't easy to change. So, I decided to 'gap' out for a time and came back to Marshfield."
In need of a job, Adler's future father-in-law told her about an opening at what was then Central Catholic Credit Union (which became Central City and then Simplicity), which was expanding.
"I submitted an application and was hired as a teller part time," said Adler. "I never worked part time as on my first day the state examiner from the Department of Financial Institutions arrived unexpectedly and I was put to work helping to balance the books and being trained as a teller."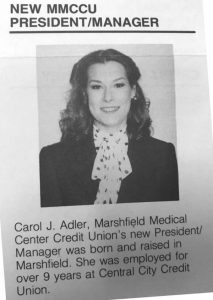 At that time, in 1976, only three others (including the president) worked there and with the new building under construction and the growth that followed, Adler found her career. After 9 years at Central City Credit Union, Adler was hired as President/CEO at MMCCU in 1985.
"The credit union industry is wonderful with a commitment to serving their members and opportunity for women who hold many management positions in credit unions directly or at other entities in the industry," said Adler. "Ultimately, I took business and accounting classes in the evening working towards my degree."
Happy to have found her calling, Adler's 35 years at MMCCU have been rewarding and have included a dedication to service.
"The absolute best is the relationship with the members, but, beyond that, working with the board of directors and staff has been an honor and a pleasure," said Adler. "Also, others within the industry are awesome. I have served on numerous committees, councils and boards over the years including the Wisconsin Credit Union League and the Wisconsin Credit Union Foundation for nine years on each – rising to Chair of both entities. Collectively, 18 years of service."
In her free time, she enjoys golfing, reading, travel, and serving on the board of directors for Ronald McDonald House of Marshfield, which she calls a "fabulous charitable organization." She maintains close ties to the local medical community – her husband, Gary, is a retired RN and her son Chris is a resident physician in internal medicine at Marshfield Clinic Health System. Adler plans to retire next year.
"I will be retiring next year after my credit union career of 45 years. It has been fulfilling to watch the credit union grow and thrive from $2 million to $71 million in assets and reserves of $115,000 to just under $6 million," she said. "I am happy to work and live in the Marshfield area and hope that our city, state, and nation will have victory over the pandemic soon so our economy and society can reopen. I hope our citizens stay safe and stay well."