Night Deposits Can be Made at MMCCU
If you are not able to deposit money during open hours, no need to stress! MMCCU offers a convenient after hours deposit option for members who are not able to stop in during open office hours. This option is available 24/7 for members.
The drop box is located in the first drive up lane closest to the building, just before the ATM. Night Deposits are run early the next business morning to ensure that members have their funds available right away.
Deposits and documents dropped off in the night deposit drop box are secure, as they are stored inside the building and cannot be accessed by anyone on the outside.
"We understand you may not be able to make into the branch during business hours," said David Murphy, President. "The night deposit drop box is another secure way to get your documents and deposits to the credit union outside of regular hours. All items dropped off in the night deposit are simultaneously handled by multiple employees, so there is little to no risk of deposits being tampered with between when you drop them off and when we handle them. You can ensure deposits are handled as if you were bringing them in and working directly with our Member Service Representatives in person."
Another option for members is the Mail Deposit system. Whether you're out of town or don't want to make the drive in, MMCCU offers a mail deposit option. Similar to the after hours deposit option, these deposits are run in the late morning the following day as well. Any mail can be sent to PO Box 279, Marshfield, WI 54449.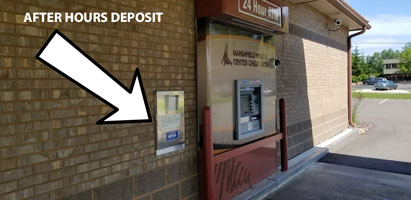 If you have any questions, please contact us!