MMCCU's current Staff Accountant Stephanie Rasmussen has been promoted to Accountant & HR Specialist.
"There is a need for assistance in HR administration within the organization, and Steph has shown the capacity to handle these additional responsibilities," said MMCCU President David Murphy.
In her new role, Stephanie will be handling changes to payroll and benefits, working through the hiring process, and onboarding newly-hired employees. She will also be responsible for keeping the organization updated to the latest changes within HR.
"Steph has exhibited the skills necessary to help administer our HR needs within the organization," said Murphy. "Adding these skills to her daily responsibilities helps the organization stay up-to-date with the latest developments that affect our staff."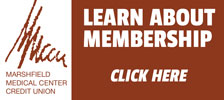 MMCCU is independent and not affiliated with any specific medical facility. Membership is composed of people that work in medical-related fields, and their families. This means anyone from doctors to chiropractors to veterinary technicians, and much more are part of this exclusive membership group. If you get a paycheck from a medical-related business, chances are good you qualify – even if you don't specifically do a medical job, such as custodian or receptionist. Learn more at www.mmccu.com/membership.