How to Become an MMCCU Member (and Why!)
We recently welcomed a couple of new members and were pleased to hear that the experience was "so much easier than expected!" Our goal as a credit union is always to put people first, so it's great to hear feedback like that! Interested in becoming a member at MMCCU? It's pretty simple!
First, some background on MMCCU:
MMCCU is the largest health care credit union in Wisconsin. At MMCCU, Our sole purpose as a financial cooperative is to provide better service, better rates and lower fees to our members. (Compare that to a bank, here.)
Who can Become an MMCCU Member?
A member is simply someone that has deposited money in a credit union. Anyone who does this is then an owner-member. This makes you both a customer and an owner of the credit union.
Our membership is healthcare workers and their families, so we understand this demographic and can serve them best. MMCCU proudly serves the health care community (and their families) throughout Wisconsin. If you work in a medical-related field, you qualify for membership*.
This means that not just doctors and nurses can be members, but also:
– chiropractors
– veterinarians
– certified veterinary technicians
– dentists
– pharmacy workers
– medical supply company workers
– assisted living facility employees
– EMT's
– and many more…*
If you are a member of MMCCU, your immediate family members are also eligible for membership even if they do not work in a medical-related field.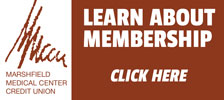 If you work at these places, you could qualify for membership* and this list is just an example of a few places!
Ascension at Home
Aspirus Hospital
Aster Assisted Living of Marshfield
Atrium Post Acute Care of Marshfield
Bents Chiropractic Center, SC
Castlerock Veterinary Hospital Inc
Changes Within
Dental Clinic of Marshfield
Dental Crafters Inc
Drach Chiropractic Center
EyeCare Center of Marshfield
Family Health Center of Marshfield
First Impressions Pediatric Dentistry & Orthodontics
Gateways Counseling Services & Day Treatment Center
Healing Path Acupuncture LLC
Health in Motion of Wisconsin LLC
The Hearing House LLC
Joey's Optical
Kilty Chiropractic
Mabeus Dental Office LLC
Mapleleaf Dental
Marshfield Chiropractic Therapy & Massage
Marshfield Clinic Health System YMCA
Marshfield Clinic Health System
Marshfield Clinic Marshfield Plaza Therapy Center
Marshfield Fire & Rescue
Marshfield Medical Center
Marshfield Podiatry Services
Marshfield Veterinary Service
Medwest
Next Step Prosthetics
Norwood Health Center
Prairie Run Dental, SC
PreventionGenetics
Prosthetic Plus
Ronald McDonald House
Safford Dental
Shopko Optical
Sport & Spine Clinic of Marshfield
Stoney River Assisted Living & Memory Care
Three Oaks Health Services
Walgreens (Pharmacy)
Walkabout Health Products
Wells Nature View Inc
Wildwood Animal Hospital & Clinic LLC
& more!*
If you are a doctor, you can become a member. If you work as a receptionist in a dental office, you can become a member. If you are a janitor at a place that manufactures dental implants, you can become a member. If you work in a medical lab, you can become a member. If you receive a paycheck from the health care industry, you can become a member!*
To join or for additional information please contact us at (715)387-8686 (toll-free 800-818-5049) or visit our office at 302 West Upham Street in Marshfield.
Email us at mmccu@mmccu.com
Click here to read about the Credit Union Difference and how to switch to MMCCU.
Once a member, you're a member for life! Even if you transfer careers, you and your immediate family can remain members.
How to Switch Your Financial Accounts to MMCCU
Switching banks or credit unions doesn't have to be a hassle. Whether you're moving, seeking lower fees, or simply want to try somewhere new, the process to switch is fairly straightforward. Remember, not all of your accounts need to be in one place, either!
If you're looking to switch to or open a new account at Marshfield Medical Center Credit Union (membership information here), follow these tips to help prevent any issues:
Contact MMCCU to open a new account. We'll need some basic personal information and documents, but the process overall is simple.
Make a list of automatic payments and deposits associated with the account you plan to close. This includes:

Direct deposits
Automatic bill payments
Recurring transfers
Linked accounts (such as Venmo or PayPal)

 Make a list of bank services you are using at your current location:

Banking alerts
Mobile app
Paper checks
Safe-deposit box

Start transitioning money and service payments to your new MMCCU account. Consider keeping some money in your old account for a while, just in case there are any automatic payments you missed. (Be sure to cover any minimum amounts you need in there to avoid fees.)
Change any direct deposits from your old financial institution to MMCCU
Review the list you made and reschedule automatic payments
Order checks (if needed)
Activate your debit card, add to your mobile wallet, and download the SecurLOCK Equip app to control your card.
Close your old account
Monitor automatic payments to make sure everything switched
Our team is happy to help! Please reach out if you have any questions on how to switch your financial institution.
A credit union is:
Credit unions are focused on people, not profits. Credit unions operate by a "people helping people" philosophy that is hard to find at other financial institutions.
Financial education is available to all members. Credit unions assist members in becoming better-educated consumers of financial services.
As not-for-profit institutions, credit unions offer better rates on credit cards—up to two percentage points lower than the average bank card rate.
Credit unions are available in places where banks typically aren't, such as community development neighborhoods.
As a member of a credit union, no matter how much money you have on deposit, you have an equal voice in how your credit union is run.
Superior service, convenience, and technology. Credit union members receive the service convenience of today's technology through online and mobile banking.
Use the credit union services you need. Many credit unions provide online loan applications and remote deposit capture for member's convenience. Even if you don't need the credit union's sophisticated website or 24-hour loan services, you can use the credit union services you need most.
Many credit unions offer no-surcharge ATMs that any credit union member can use. National shared ATM networks mean you can find ATMs where you live and work.
Your credit union can put you in business with a small business loan. And some credit unions have established a relationship with the Small Business Administration to expedite loans to credit-worthy small businesses.
Credit unions differ from banks in many ways, but one of the main differences is membership. Learn more about MMCCU membership here.
*Membership eligibility required. Federally insured by NCUA.