Congratulations to Emily Bruhn, the MMCCU Health Careers Connection Scholarship Winner! (Need help financing your education? MMCCU is here to help – click here for more details!)
Emily is attending UW River Falls, majoring in Kinesiology and Exercise Science.
Emily wrote the following about her experience with the Health Career Connections program: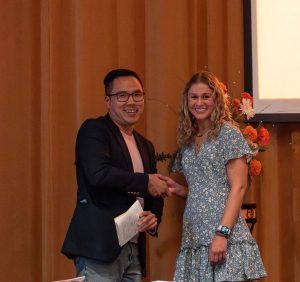 "Participating in this program has granted me the opportunity to explore many new career paths as well as details associated with each path. Getting the opportunity to job shadow at places like Bents Chiropractic and Health in Motion helped me completely decide that my desired career path in physical therapy is for me. At both of these places, I got to see patient evaluations as well as various treatment procedures. I got exposed to many different cases due to their variety of patients. Not only did I see the patient care aspect of the job, but also more behind the scenes such as patient reports and other daily tasks that are required to be completed.
Not only did this program help decide my intended path after high school, but it also showed me another career that is of interest to me, an EMT. Although this may not be my decided career, going on calls made me realize that being a first-responder is a potential opportunity for me in the future. Getting to talk to one of the Chiefs at Marshfield Fire and Rescue helped me figure out a plan for balancing both PT schooling as well as being a first-responder.
All of my mentors throughout the program had very insightful information to share that exposed me to opportunities out in the community."
Congratulations and best wishes for your future, Emily!