Financial Tips for a Recession
News about inflation, rising prices, and supply chain problems is everywhere. As a credit union, helping our members is priority #1. In good financial times and in bad, we're here to help answer questions and navigate the financial landscape. If you're wondering how to recession-proof your finances, we've compiled some helpful tips here.
"It's good to plan for the worst but expect the best," said MMCCU President David Murphy. "Understand your finances and know where you can access money in the event your employer downsizes, prices continue to skyrocket, or emergencies take place."
Financial education is important and during times of recession. MMCCU has partnered with Neufeld Capital Management to provide financial workshops for our members. During recession (and anytime!), it's good to return to the basics:
Know how your money is being spent
Have a long-term investment plan
Consider ways to increase your income
Find ways to reduce expenses
Tips to Reduce Monthly Expenses
Look at your bills, eliminate things you don't need and try to reduce or negotiate the rest. Oftentimes, monthly/reoccurring bills become so automatic that we don't realize we may no longer need that service/item, or we overlook a less expensive alternative. Making sure you aren't paying for duplicative services, like entertainment streaming services, for example, can be an easy way to save each month. Other areas where you can shop around for saving can include:
Phone
Internet
Car insurance
Home insurance
Consider things like neighborhood groups or Facebook Marketplace or other local shopping apps for items like used furniture, home goods or clothing at big discounts.
Incorporate Efficiencies
Meal planning helps efficiency at the grocery store. Look at your calendar and plan for nights you're home and the days your family will need lunches, etc. Incorporate recipes that use the same ingredients to help eliminate waste on things like produce.
Take advantage of shopping online and using pickup service. This will help reduce non-essential purchases. Make sure you are using coupons, cashback credit cards and cashback portals to save. All these are simple ways to reduce spending.
Combine your trips to save gas. Order your groceries online and arrange for pickup when you'll already be in the car, such as on the way home from work, or when you're picking your kids up from school. Reducing your number of trips will help save on gas and time.
Earn Extra Cash
There are lots of creative ways to earn extra money. You can sell things you're not using on eBay, Facebook Marketplace, or Craigslist.
There are also lots of side jobs with flexible schedules or that can be done from home. Pet sitting, online tutoring, or driving for meal delivery services or a rideshare service could be done outside of your 9-to-5 job. You may be able to find freelance work at places such as Upwork or Flexjobs.
If you have a licensed skill like hairstyling or nail technician, or similar, that you're currently not using for your normal job, consider it as a side job. Many people who have their licenses in these areas have started small businesses in their homes, or in their local neighborhoods and offer people convenience for services they need.
Other Recession Tips
Have a plan: Build up an emergency savings plan and understand where you can access funds from retirement accounts or from investments if needed.  Can you cash in a certificate or CD, and if so, what is the penalty?  Can you sell stocks or investments?  If so, what is the tax ramifications from such a decision?  Plan ahead so you know your options in a pinch.
Consider converting funds to a Roth IRA: When the markets are down and rates are lower, a Roth Conversion is a good consideration as the tax liability could be lower with portfolios worth less than 6 months ago.  Tax consultants should be consulted to determine if this is appropriate for you. Learn more.
Don't spend money you don't have: If you're unsure whether your job will be around in 3-6 months with a pending recession looming, put off spending money on "fun" stuff, like vacations and new vehicles.  Emergencies are inevitable, but tapping into emergency savings to take advantage of a "cheaper" vacation or a better vehicle could put you in a bad situation should your hours be cut or your position be eliminated, or if costs continue to increase.
Watch your interest rate: Most credit cards and some loans are adjustable rate, meaning that when certain rates increase, the interest rates on your loans go up as well.  If you carry balances on your credit cards, understand how increasing interest rates impact the amount of interest you are paying on your cards.  Higher interest rates could mean longer repayment periods if you only pay the minimum balance due.  (consider a fixed rate or consolidation loan option)
Talk to your investment advisor: A recession is not a good time to be "timing" the market.  Stick to your long-term investment strategy, even when the daily updates to your portfolio look bleak.  Historically, these portfolios have strong performances over the life of the portfolio, but trying to time the market by buying and selling at the wrong time can severely impact your long-term performance.  If you are feeling the pressure in your portfolio, talk to your advisor before making any knee-jerk reactions.
Don't stash cash money at home! (Click to learn why)
Learn about membership at MMCCU! Our team is here to help!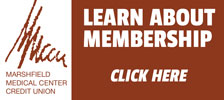 Some tips courtesy of CU Insight